TASCA BY JOSÉ AVILLEZ EARNS
FIRST STAR IN DUBAI'S DEBUT
MICHELIN GUIDE
Dubai, 22 June 2022 – Tasca by José Avillez, the signature Portuguese restaurant of Mandarin Oriental Jumeira, Dubai, has been distinguished with a Michelin star in the food guide's inaugural Dubai edition.
"We are very proud and honoured that Tasca has received a Michelin star in the inaugural Michelin Guide Dubai 2022. What makes this recognition even more special is being part of Michelin Guide's debut in the UAE and the region. I would like to sincerely thank the Michelin Guide for their trust and I'm grateful to chef José Barroso, Head Chef at Tasca, Sérgio Machado, General Manager of Tasca, and the entire Tasca team for their dedication, passion and commitment to delivering a noteworthy dining experience." commented Chef José Avillez.
He added: "This is also an incredible achievement for Portuguese cuisine. Dubai is currently the epicentre of the world's dining scene and being able to offer a taste of Portugal in this cosmopolitan city is an absolute joy and source of pride. I am very proud, on many levels".
The Michelin Guide, which attributes these prestigious distinctions, frequently referred to as the "culinary Oscars", uses a well-known system of stars to rate the world's best restaurants and hotels. There are five criteria according to which the restaurants are evaluated: quality of ingredients, skill in the preparation, culinary personality, value for money and consistency. One Michelin Star is awarded for high quality cooking.
"To be featured in Dubai's very first Michelin Guide is a fantastic achievement, but to be awarded a Michelin star is an honour and great privilege, especially in a city where the culinary scene is highly diverse, dynamic and competitive. Congratulations to Chef José Avillez and the Tasca team on this incredible and well-deserved recognition. We will continue to surprise and delight our guests' taste buds with a memorable Portuguese dining experience." said Werner Anzinger, General Manager of Mandarin Oriental Jumeira, Dubai.
Tasca by José Avillez takes inspiration from a traditional Portuguese eatery, "tasca", serving genuine food and drinks but with a contemporary twist. With a menu based on a sharing concept, the award-winning venue takes guests on a culinary journey across the rich and varied country. Dishes include a modern take on a range of Portuguese classics from both the sea and the land, such as Scarlet Shrimp, "Bulhão Pato" clams, Bacalhau à Gomes de Sá, Piri Piri chicken with smoked avocado cream, "Pica Pau" pan-fried, Grilled lobster, and many others.
See Also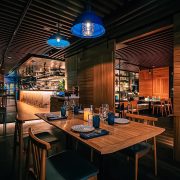 Complementing the menu is a wine list with the largest selection of Portuguese wines available in Dubai as well as a tempting array of craft cocktails. With spectacular views overlooking Dubai's glittering skyline on one side and the Arabian Gulf on the other, the restaurant offers both indoor seating and outdoor terrace dining complete with an infinity pool overlooking the Gulf.
Tasca is open for lunch from 12 to 3.30pm and dinner from 6.30 to 11:30pm. For reservations, please contact +971 4 777 2231 or visit mandarinoriental.com/tasca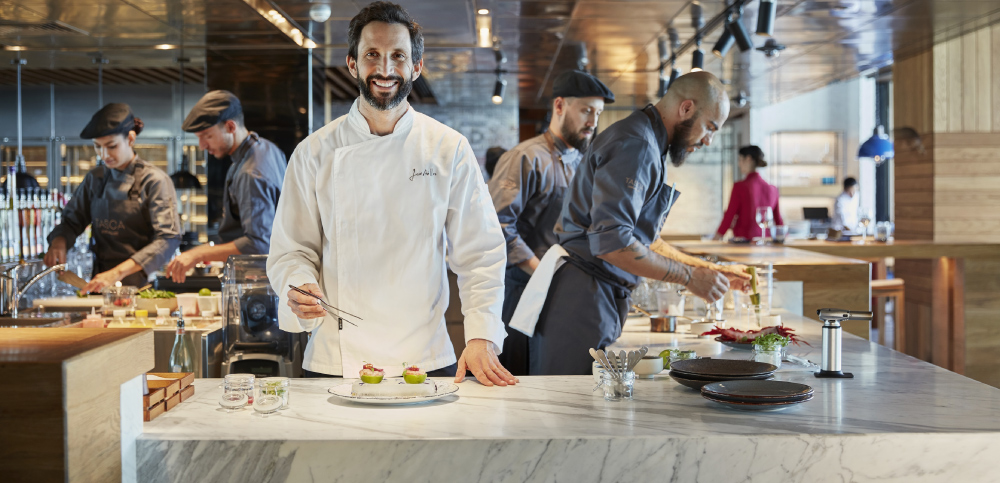 About José Avillez
Portuguese and a chef, José Avillez' main focus is to promote Portuguese gastronomy and contribute to making Portugal a top gastronomic destination.
He's considered one of the great references of gastronomy in Portugal and has stood out because of his enterprising spirit and drive to keep pushing further. Currently, José Avillez has several restaurants in Portugal, in Lisbon, Cascais, Porto, Algarve and also in Dubai, each with a different concept, but all expressing his passion for cuisine: Belcanto, distinguished with two Michelin stars and elected one of the 50 best restaurants in the world by the prestigious "The World's 50 Best Restaurants", Encanto, Mini Bar, Bairro do Avillez, Pizzaria Lisboa, Cantinho do Avillez in Lisbon (Chiado and Parque das Nações), Cascais and Porto; the three restaurants in the Gourmet Experience of El Corte Inglés Lisboa, Tasca Chic, Jacaré, Barra Cascabel (in partnership with Mexican chef Roberto Ruiz); Tasca José Avillez at Cuá Cuá Club in Quinta do Lago in Algarve; Tasca, José Avillez' first international restaurant project, at the 5 stars hotel Mandarin Oriental Jumeira, in Dubai, awarded with a Michelin Star in 2022. www.joseavillez.pt
About Mandarin Oriental Jumeira, Dubai
Mandarin Oriental Jumeira, Dubai is the most exciting new addition to the region's luxury hotel scene. Its unrivalled location with easy access to both international airports makes this the ideal venue for both business and leisure travellers. It also holds the status of being the closest beachfront resort to both Downtown Dubai and the financial and business districts. Located in one of Dubai's most prestigious neighbourhoods, the resort's spacious and elegant rooms and suites combine contemporary décor with guest-centric technology and spectacular views. There are six first-rate restaurants and bars including two signature restaurants, a state-of-the-art destination spa spread over 2,000 square metres, a fitness centre and a kids' club. www.mandarinoriental.com
Press contact:
Raquel Esteves
+351 915 330 207
[email protected]
For further information, please access our press room.