Welcome to this enchanted place of haute cuisine where vegetables are celebrated as stars. Memorable moments await you.
ENCANTO opens for dinner, Tuesday to Saturday.
On the table, a parade of the best delicately prepared vegetables on a unique tasting menu that is 100% vegetarian, with around 12 moments. A game of colours, textures and temperatures, with contrasting and unforgettable flavours, presented in a surprising and original way.
Legumes, leaves, seeds, algae, mushrooms, flowers, fruits, eggs, and cheeses are delicately prepared and served. As the best complement, we suggest biodynamic wines, craft beers, or housemade juices, infusions and kombuchas that can be ordered a la carte or as a drinks menu.
At ENCANTO, we want to celebrate the work of small or local Portuguese farmers and cede the spotlight to seasonal products.
"Encanto is our first restaurant with a set 100% vegetarian menu. It's an enchanted place that sprung from wanting to use the best products nature gives us and from a drive to contribute to a more sustainable world," explained José Avillez.
Encanto Menu
Because some ingredients may become unavailable, this menu may be changed.
Flaxseed | Celery | Tonburi
Satay peanut | Paprika | Lemon
Green bean tempura | Romesco
Bean | Avocado | Tiger's milk | Flowers Gold | Hummus
Lupin bean | Fava bean azevia (fried pastry with soft filling)
Spelt bread | Smoked butter | Sage ashes
Carrot | Olive | Pine nut milk
Beetroot | Sweet potato | Dijon
Confit egg yolk | Jerusalem artichoke | Bean broth | Truffle
Green curry | Green vegetables | Green citrus
Cabbage | Onion corn kernels | Azorean Island cheese
Rice | Black truffle | Spinach | Sheep butter
Mushrooms | Leek | Puff pastry
Strawberry sorbet | Coconut | Broccoli
See Also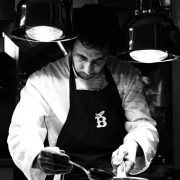 Home » Encanto, the enchanted plant world by José Avillez
Meringue| Pinetree crème | Kumquat
Apple | Yuzu
Encanto Menu
About 12 moments: 95 euros per person
With 40 seats, Encanto is in Largo de São Carlos, in the space that was once the old Belcanto, and for a few months, Canto. The interior architecture was designed by Studio Astolfi.
Encanto
by José Avillez
+ 351 211 626 310
Largo de São Carlos, 10
1200 – 410 Lisbon
Opening hours:
Tuesday to Saturday for dinner, from 19:00 to 22:30.
Reservations:
encantojoseavillez.pt
Instagram:
encanto_joseavillez
Press contact:
Raquel Esteves
+351 915 330 207
[email protected]