Interview by: Publisher Margaux Cintrano
Photography by: Chef Keiichi Hashimoto,
Shunanshi, Yamaguchi, Japan
Your restaurant Le Sorcier is incredibly brilliant. Has it been more challenging since Covid 2020-2021 to re-establish after the lockdown was eliminated?
Le Sorcier has a very small capacity for only 6 people.
I made it even smaller for only 4 people in one day and as a result I can provide more courteous customer service. Additionally, I had refurbished my restaurant in a more modern setting with a charcoal grey colour scheme which enhances the dining experience and this had been done with a special LED lighting made in Yamaguchi Prefecture. Finally the dining room chairs,"Brno Chairs" which are designed by Mies Van Der Rohe are my favourite!
In your opinion, has Japan's dining scene changed since the beginning of 2022?
It started to move little by little, but it's still quite slow.
In speaking about visions, how does Le Sorcier present its cultural and seasonal phenomenon of product selection?
As usual want to express the beautiful trilogy, Seto Inland
Sea, clear river, and the refreshing feeling of the forest. Different from before, however, as minimalist as possible. It may be my Japanese way of thinking.
What are your latest specialties for summer and which products shall you be utilising?
See Also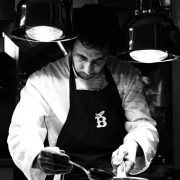 Home » Impeccable Perspective in lively dialogue with Chef Keiichi Hashimoto
Firstly, summer ingredient being introduced is "MUKAKU WAGYU", a very light beef.
Mukaku means "no horns". It's a scarce Wagyu and only nurtured in The Yamaguchi Prefecture.
Secondly, the flora grown in The Yamaguchi Prefecture as Le Sorcier specialises in edible flowers, Furthermore, I'm using both the Wagyu Tartare Plates…
Who are your icons in the food world and why?
At first I was longing for Pierre Hermé "At this time, I am longing for different sensibilities".
What have been your most aesthetically beautiful serving wares that you have implemented in your timeless cuisine?
It's not Serving wares…
The object that I had ordered specially, has arrived from Ceramic artist "Yusuke Wakasa".
He lives on The island of Etajima in Hiroshima (Hiroshima Pref is located just east from Yamaguchi Pref). It expresses the beautiful sea and the trade winds that blow here. Our job is a completely different mindset, however, we want to convey the charm of the Seto Inland Sea.
Filled with passion and ambition, fresh local ingredients where possible, authentic style, contemporary one of a kind flair and of Shunanshi, Yamaguchi, how do you create a menu that harmoniously blends the best of French products and Japanese local ingredients?
Ingredients gather naturally is what I want.
I create a menu while valuing the beauty of the ingredients. As simple and natural as possible. Vessels and ingredients give me images.
And I take good care of the seasonal sentiments and the time in my daily life.
The Japanese element is not too conscious and probably is expressed quite naturally.