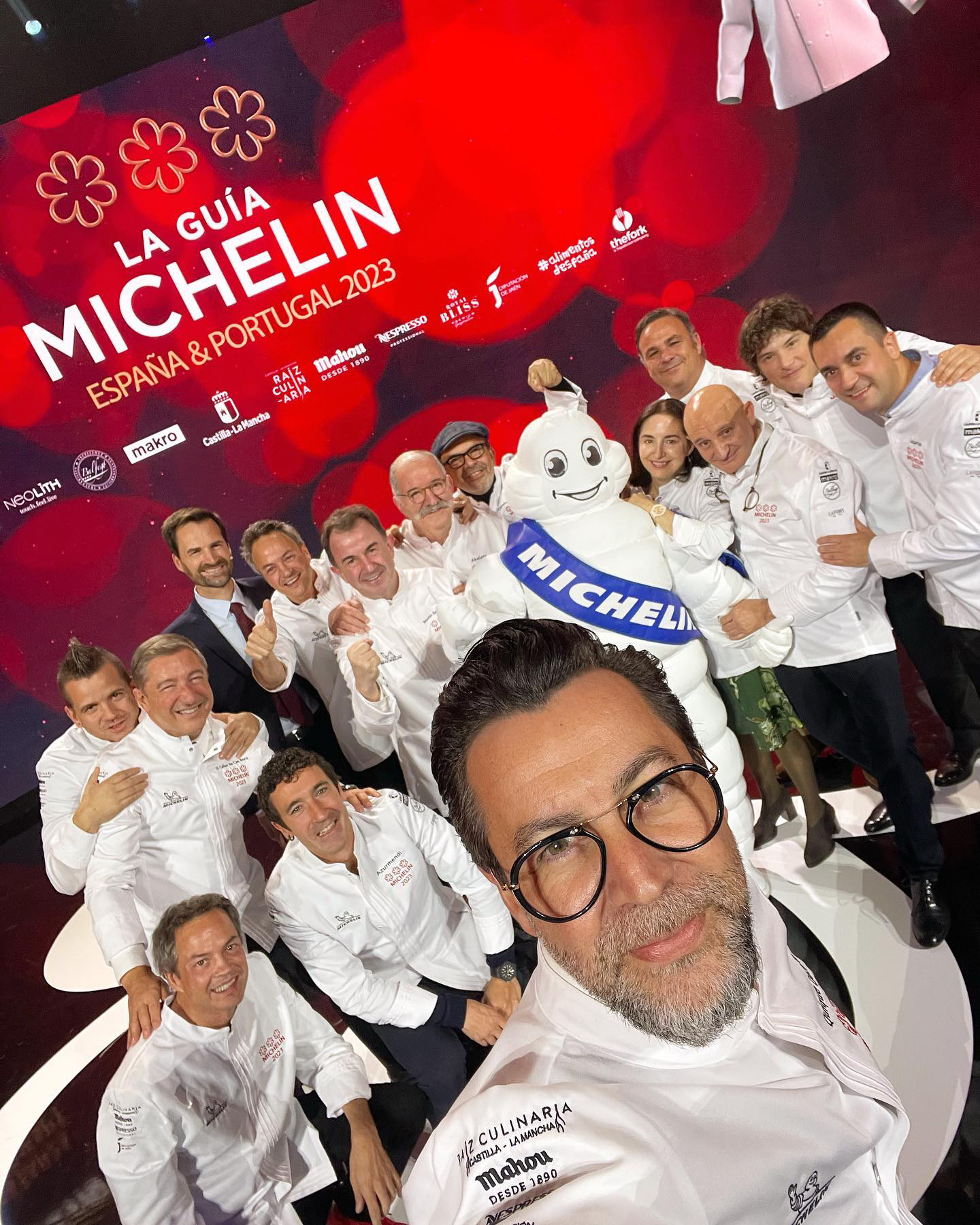 Article: Journalist Margaux Cintrano
Photo Credits: Michelin Guide 2023 Spain & Portugal and Chefs Awarded.
On the 22nd of November 2022, the annual gala for the Spanish & Portuguese Michelin Guide was held in Toledo, 50 Km from km from the the Capital of Madrid, reconising the absolute best restaurants of the Iberian Peninsula, with Cocina Hermanos Torres in Barcelona becoming the big winner of the night with a sparkling 3rd Michelin Star.
The Highlights
A third Michelin Star was awarded to Javier and Sergio Torres of Cocina Hermanos – Barcelona.
Additionally a 3rd Michelin Star was earned by Chef Toño Perez of Restaurant Atrio in Cacéras, Extremadura.14 new Green Stars were received by 13 Restaurants in Spain and one in Portugal.
Furthermore, three special Michelin Awards were given to Young Chefs and the new Service Awards were presented celebrating talent and gastronomic knowledge. Restaurant Deessa, located in the Hotel Mandarin Oriental Ritz, in the Madrid Capital was awarded two Michelin Stars.
The Chef Quique Dacosta and Chef Guillermo Chavez were the recipients of the honor.
Next to Raxo, Galicia (Pontevedra) in the small village of Serpe, Chef Pepe Vieira created an impeccable countryside restaurant possessing Avant Garde design and was once again rewarded with a 2nd Michelin Star.
34 New Restaurants, 29 in Spain and 5 in Portugal, have shone brightly with a One Michelin Star.
The One Michelin Starred Awards:
It has been an exceptional year for the One Michelin Star category in both Spain and Portugal.
Here are just a few of the merited receivers of this grand honor:
Restaurant Encanto By: José Avillez – Lisbon, Portugal
Restaurant Euskalduna Studio – Porto, Portugal
Restaurant Kabula – Lisbon, Portugal
Le Monument – Porto, Portugal
Mont Bar – Barcelona
Zuara Sushi – Madrid
Etxeko Ibiza – Ibiza
There have been 34 new restaurants, 29 in Spain and 5 in Portugal with One Michelin awarded.
Three Star Attendees:
Toño Perez – Cacéres, Extremadura
Javier & Sergio Torres – Barcelona
Adolfo Muñoz – Toledo
Quique Dacosta – Dénia, Alicante
Martin Berasategui – Lasarte, Pais Vasco.
Elena Arzak – San Sebastian, Pais Vasco.
Pedro Subijana – Pais Vasco.
Ángel León – El Puerta de Santa Maria, Cádiz.
Joan Roca – El Celler de Can Roca. Girona.
Eneko Atxa – Bilbao, Pais Vasco.
Dabiz Muñoz – Madrid.
Jordi Cruz – Barcelona.
Not only has Spain and Portugal seen the fruits of their efforts and labours, however, the teams, their families and all their followers who have assisted over the years to get these amazing chefs where they are now.