Nisrin Stoica, the mother of 2 beautiful little girls, told me, "I think a woman determines her true values just when she becomes a mother. Just being a mother makes you see more clearly the development and necessities of children and one's own solution's powers to urge them to discover their own abilities and to cultivate their passions".
Actually, this is how the concept of a premium culinary school for children and youngsters of all ages, was born. I believe, that it is always the brightest ideas which start right from your own needs.
I have discovered over time that there is a necessity for both children and youth to learn to eat properly, to discover much more about food, at least more than we knew in our childhoods.
The concept started from the desire to instill in children and young people responsibility, and we realized that many of them are eager to discover the secrets of gastronomy, the nuances of food and ingredients, and also food chemistry.
I strongly believe that we need young people and children to have preparatory real-life skills, which will help them in their personal and even professional development throughout their lives.
About the Team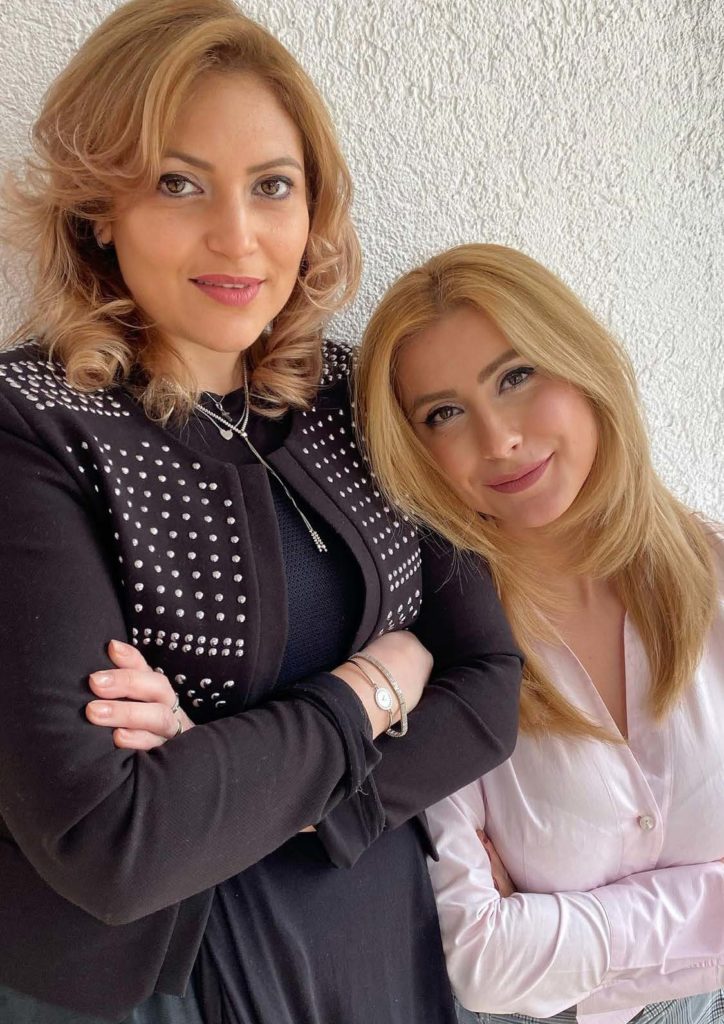 Education and especially premium education for children, cannot be done by one person alone.
I have by my side my partner, Ramona Maria Dinca who is also the PR & Communications Manager of Horeca Culinary School.
I don't think I could've had a better person to help me create and develop this concept, and to do something beautiful and sustainable together for children and young people of the current generation.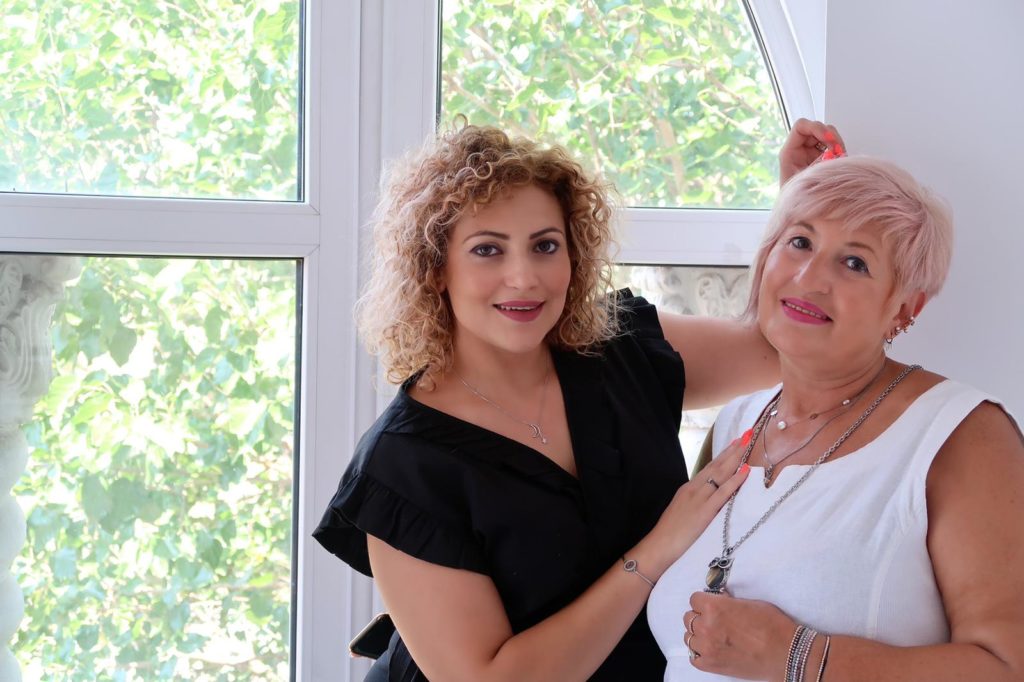 Ramona Dinca: "Everything started at Horeca Culinary School because all the projects were born here. At the beginning of my professional position, I had worked with children extensively. I was employed by a school and additionally, an after-school center, but totally different than what is happening at Kids Chef Academy and Horeca Culinary School, and for sure not so fulfilling".
"The time spent cooking with the little ones is much more fun and satisfying than what happens in traditional schools, otherwise such educational activities are part of the non-formal education, which is the basis for the development of personal skills" Through this concept of culinary education and personal development we really want to take the children out of their comfort zones, from the time spent in front of televisions, tablets, and online games.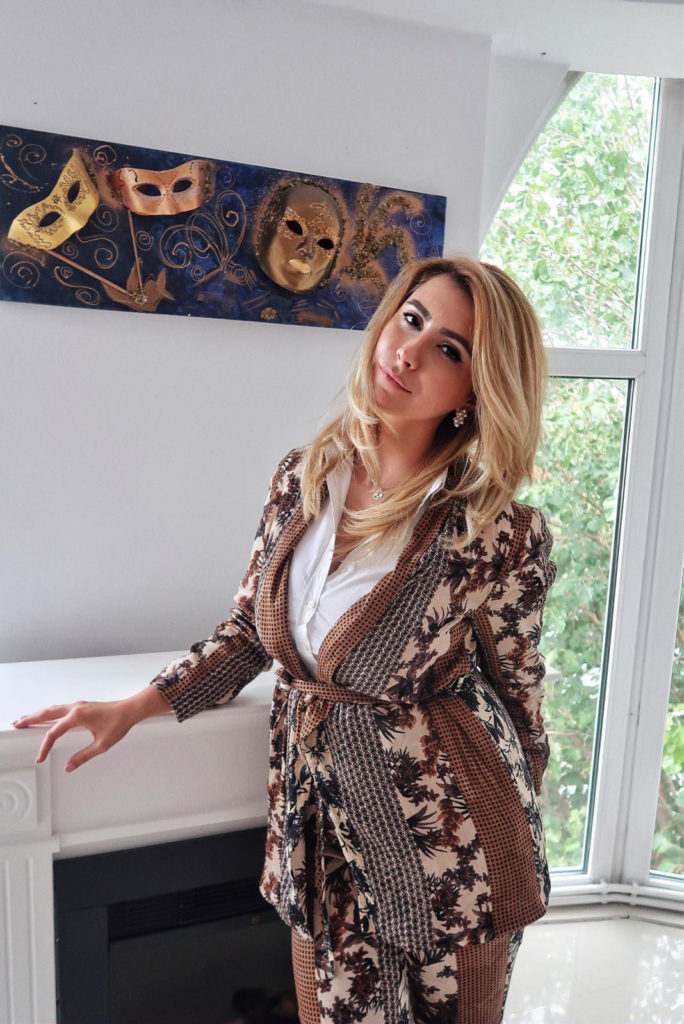 They already spend enough time in front of laptops because of this pandemic situation and online schooling, and that's why we come up with the alternative of spending quality time in a safe and healthy specialized environment, socializing, making new friends, and learning to make healthy and creative food choices.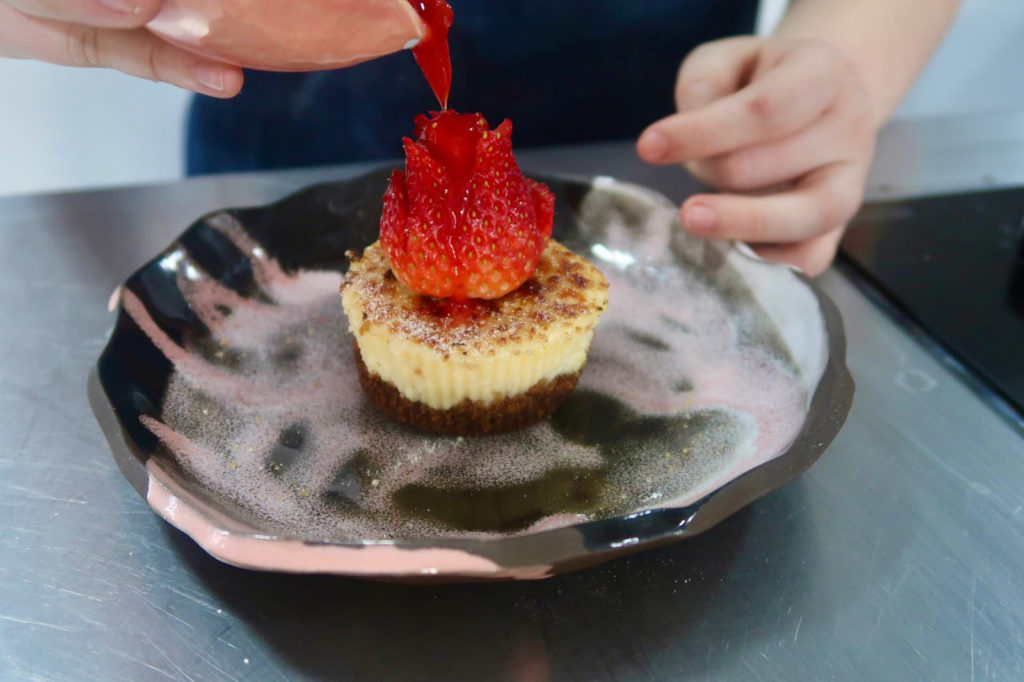 Nisrin Stoica: "Nothing can be more beautiful than to see so many children and young people whom you have given the chance to discover themselves and their passion, their creativeness, and originality and to acquire life skills, which have come permitted their dreams to come true and/or to excel in a professional field, which in itself is as beautiful as a culinary one."
For this reason, I am very thankful to Horeca Culinary School and its most modern and evolved, and developed school facilities in Romania, and being the best place for The Kids Chef Academy project to come to life. Furthermore, I am very thankful to my mother Cristina Van der Schaaf for all the support and encouragement and for believing so much in our new project.
I am happy to have also by my side a beautiful team of well-known Chefs and Pastry Chef, who have chosen to join the Kids Chef Academy project, and who can also be role models in the lives of young people who cross our threshold. 
Our trainers are the people who have taken on the responsibility of modeling characters, encouraging passions, nurturing children's need of knowledge, and discovering talents. These are: Chef Stefan Daniel Popescu, Chef Cristian Paul Fratieanu, Pastry Chef Cristina Mehedinteanu, Gabriela Marin.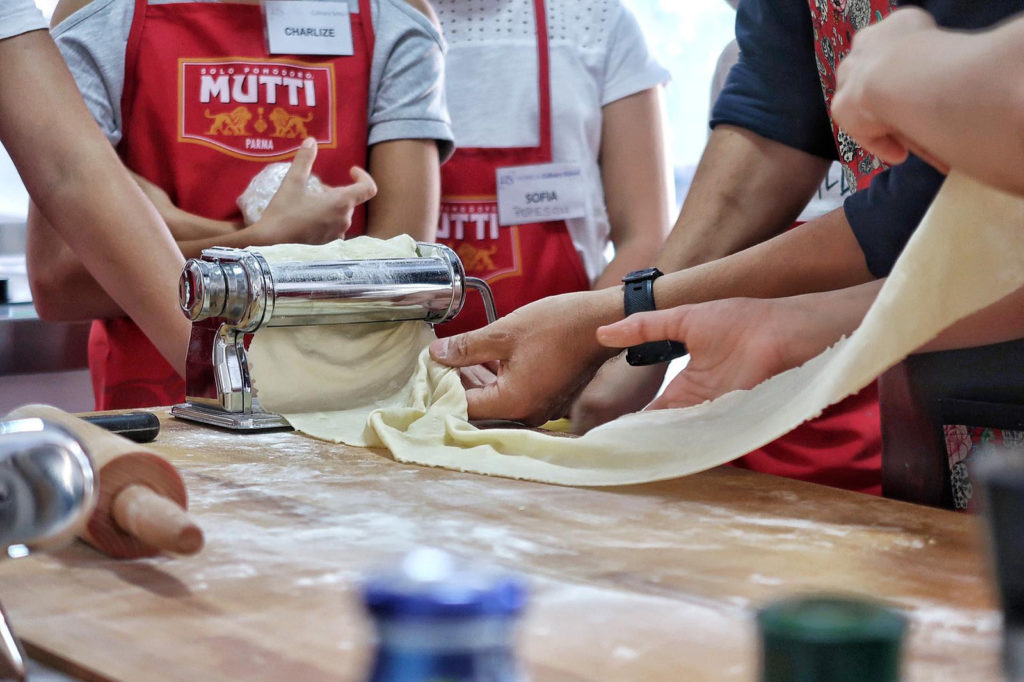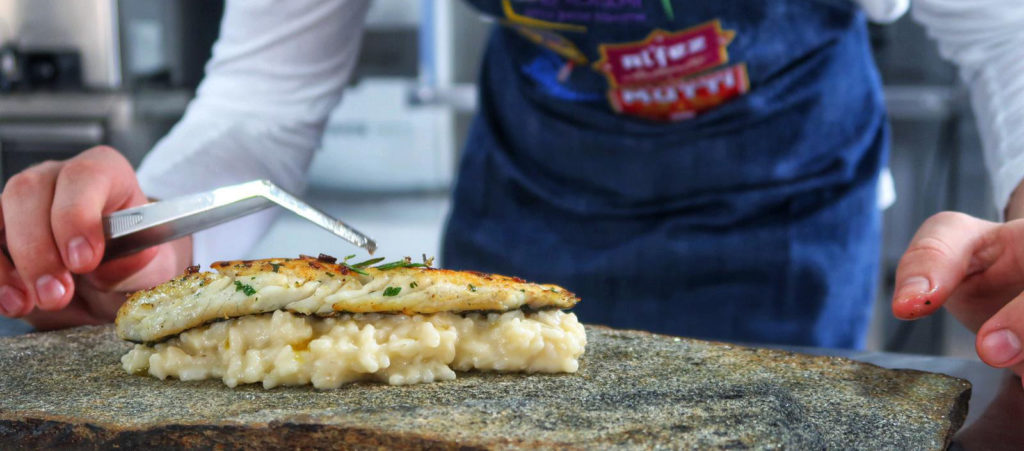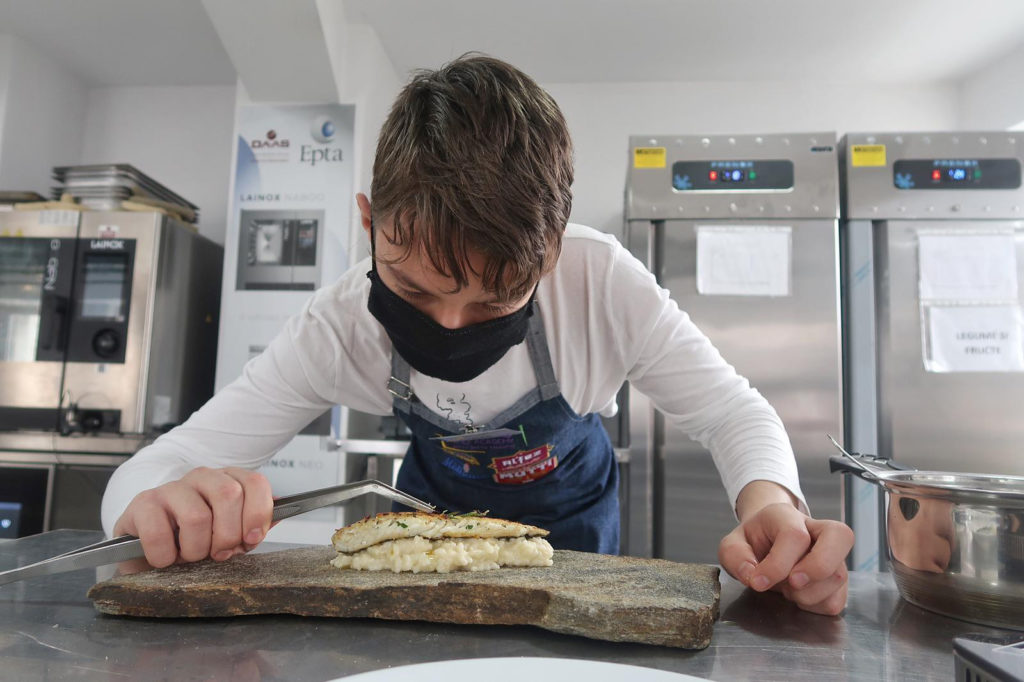 About Kids Chef Academy, Kids Chef Academy means:
culinary experiences – practical life skills – culinary careers – basic nutrition – premium ingredient – balanced preparations – events dedicated to children and young people – Competitions – social scholarships.
Our mission is to offer a culinary, engaging, fun, innovative, and creative experience! We could say that we build characters through a common passion for cooking.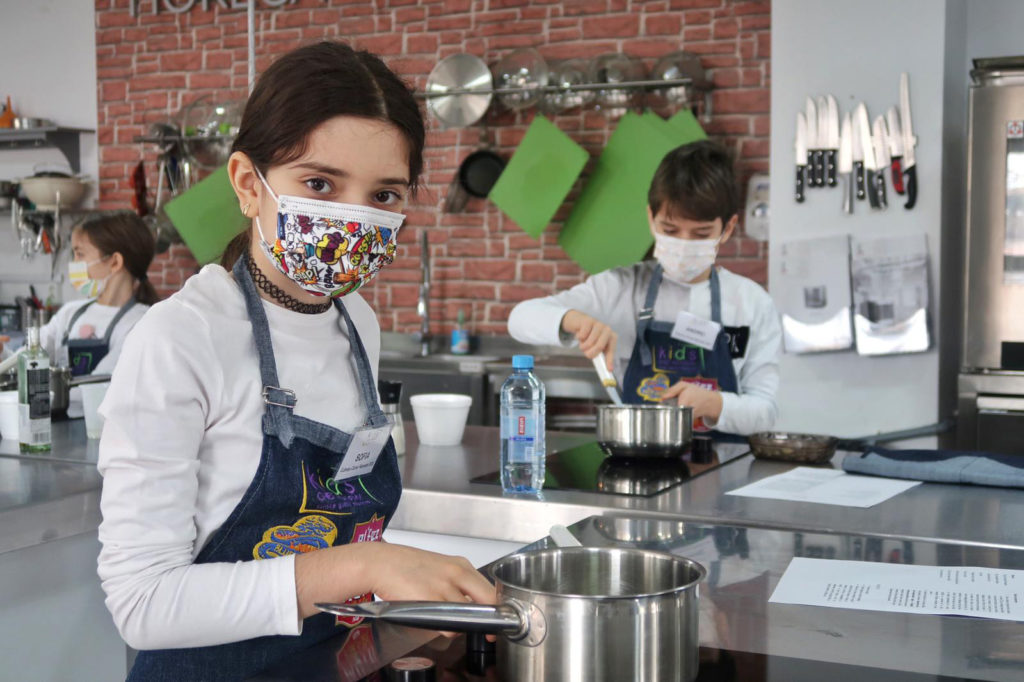 What is Kids Academy?
Is a project within Horeca Culinary School, a premium school of culinary education and personal development for children.
"Continuing nutrition education, based on sensory and practical work, is changing the way children and young people – and their parents – think about food and health forever."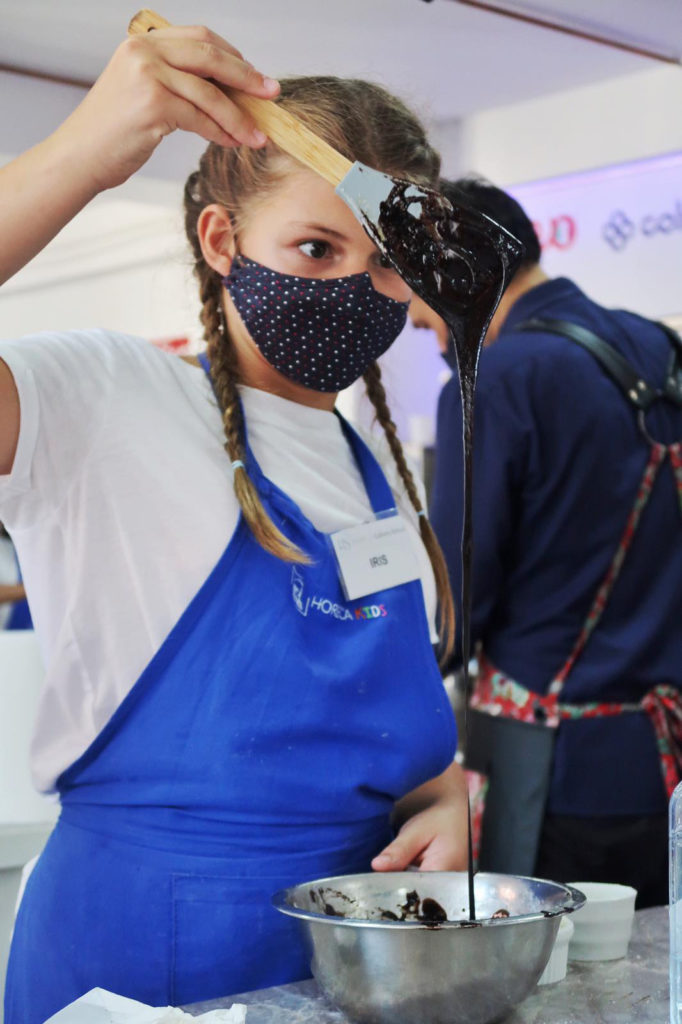 Why Culinary Education?
Through these culinary courses or camps, we want to offer children the opportunity to express their creativity, but at the same time to be able to follow in an organized way a culinary culture program adapted to their age.
Horeca Culinary School, being a leader in hospitality vocational education and training in Romania for over 11 years and having the experience in organizing and structuring educational programs, it helped us a lot and it was easy for us to size the quality of information and courses at the level of understanding for the little ones, but also to have some extremely interactive classes with a very high level of work techniques that children study.
Health problems such as vitamin deficiency, obesity, and hormonal disorders are becoming more common among children. The vast majority of them are due to dysfunctional eating habits. That is why it is very important to educate children from the very early years.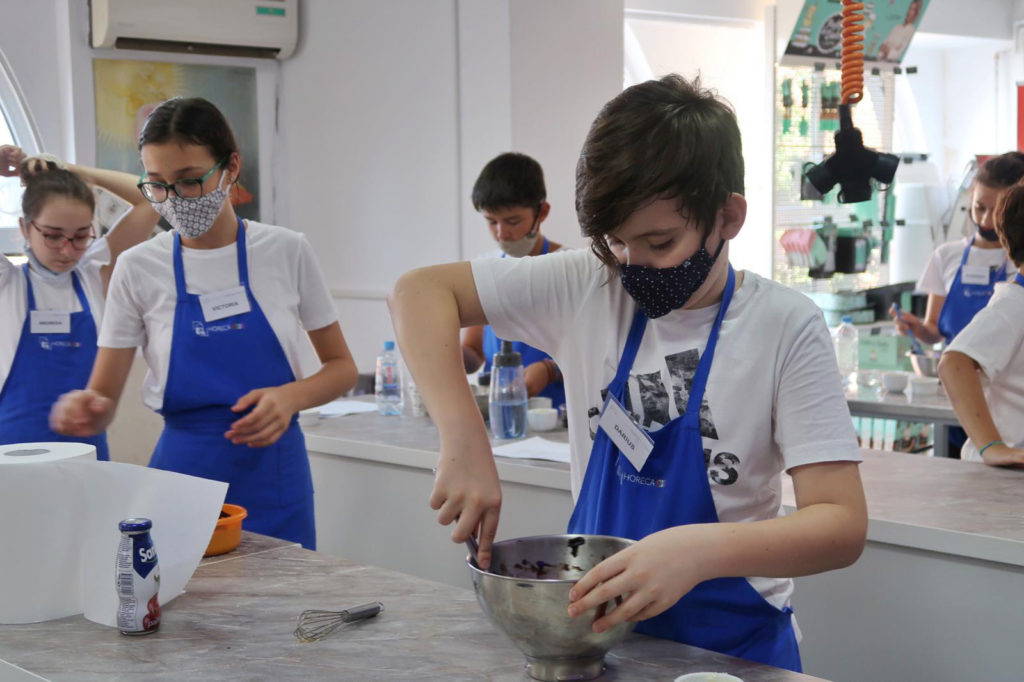 We encourage the passion of some of them for cooking, curiosity about ingredients, primary techniques, but also discipline and individual organization, knowledge of recipes that they can make themselves at home, taste education, and avoiding food waste.
See Also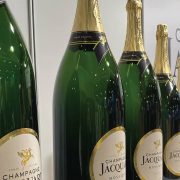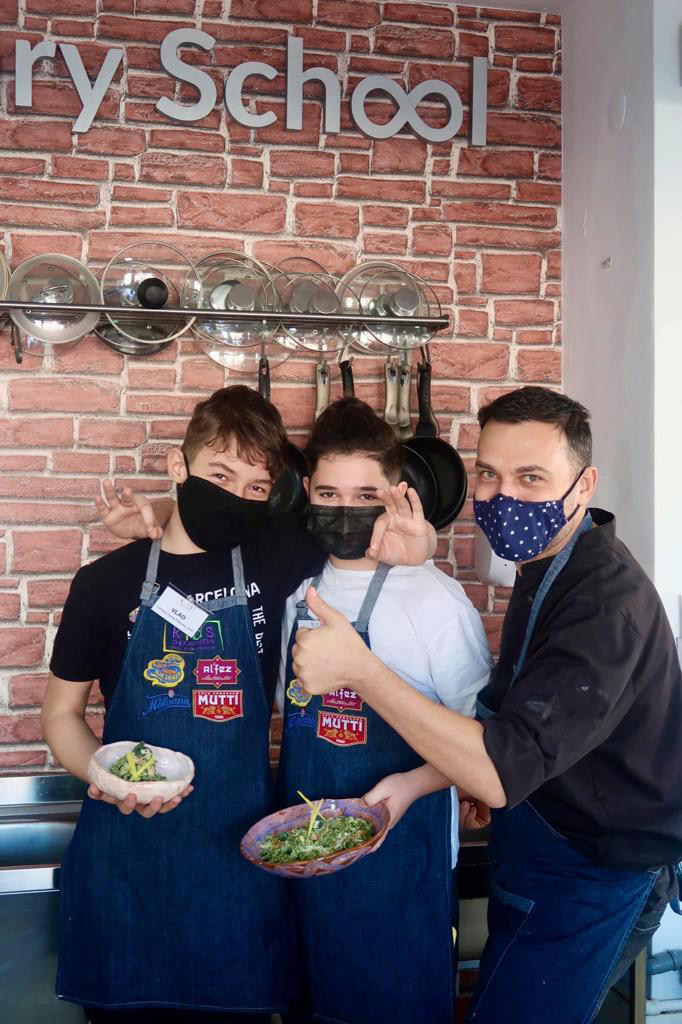 Each meeting is a new experience with interesting themes and programs, focused in the direction of befriending children with food, to resolve conflicts between parents and children around the table, combined with the pleasure of cooking and eating, turning food into experiences that are educational and build self-confidence and healthy nutritious eating habits. Additionally, children practice polite and good manners, safety in the kitchen and apply these skills in real-life situations.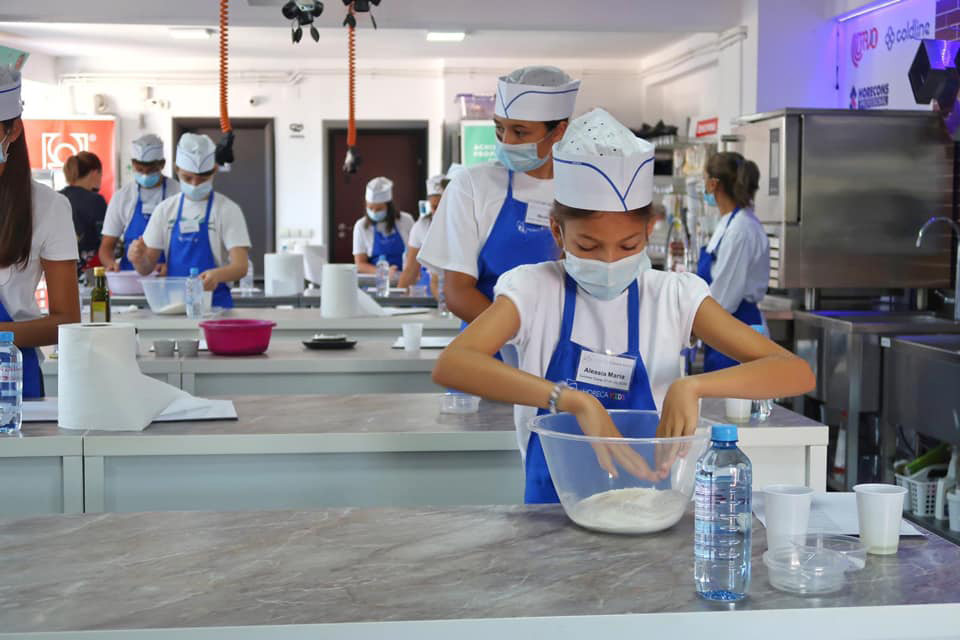 Our programs:
Indoor Culinary Camps – Kids Chef Academy location in Bucharest
Within the Camp: Basic notions about hygiene and safety – Practical work in the school laboratory – Individual Work Banks – Main course and Desert – Workshops on micro plants and their importance in a balanced life – Food Waste (what is food waste and how do we fight it) – Learning to setup the table – Napkin technique – Food Chemistry – How we make healthy choices and why we should do it – The connection between mind and body.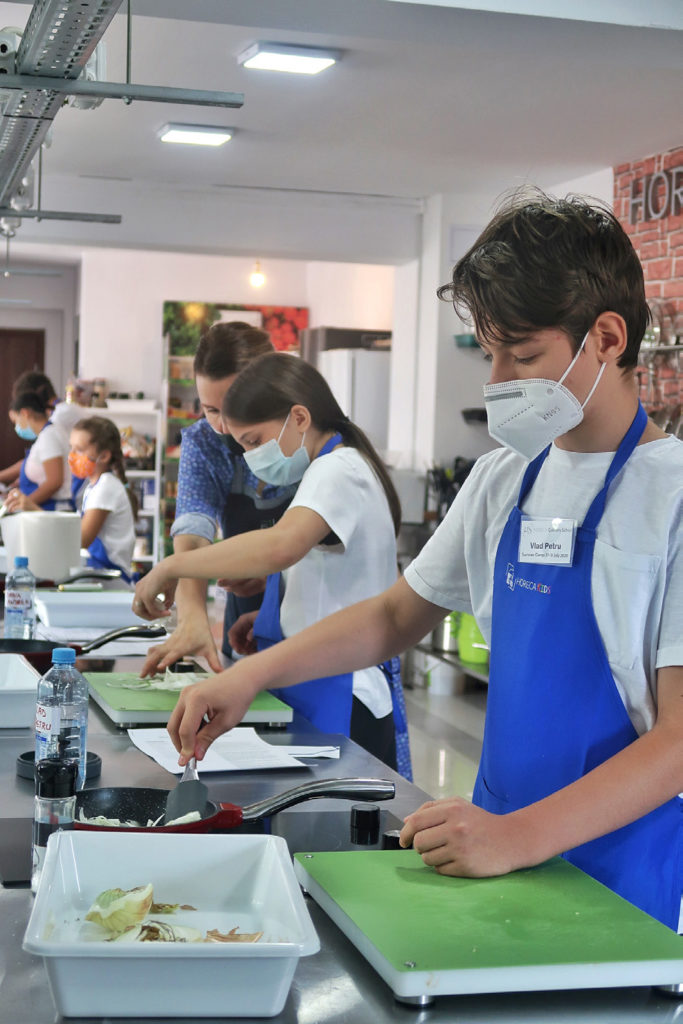 Outdoor Urban Culinary Camps – external locations (mountains, seaside) – Cooking class (different topics) – Sushi Day – Pasta Day – Pizza and Focaccia Day – Thai Day – Creative Asia 3 Days – Fish and Seafood Day – Meat Lowers – Culinary Skills – Vegetables Day – 3 Days Chef – Pastry Class (different topics) – Mr & Miss Biscuit – Gingerbread House – Macarons Lovers – Sweets Around the World – Gluten Free Desserts – Chocolate Day – Mini Cheese Cake Day.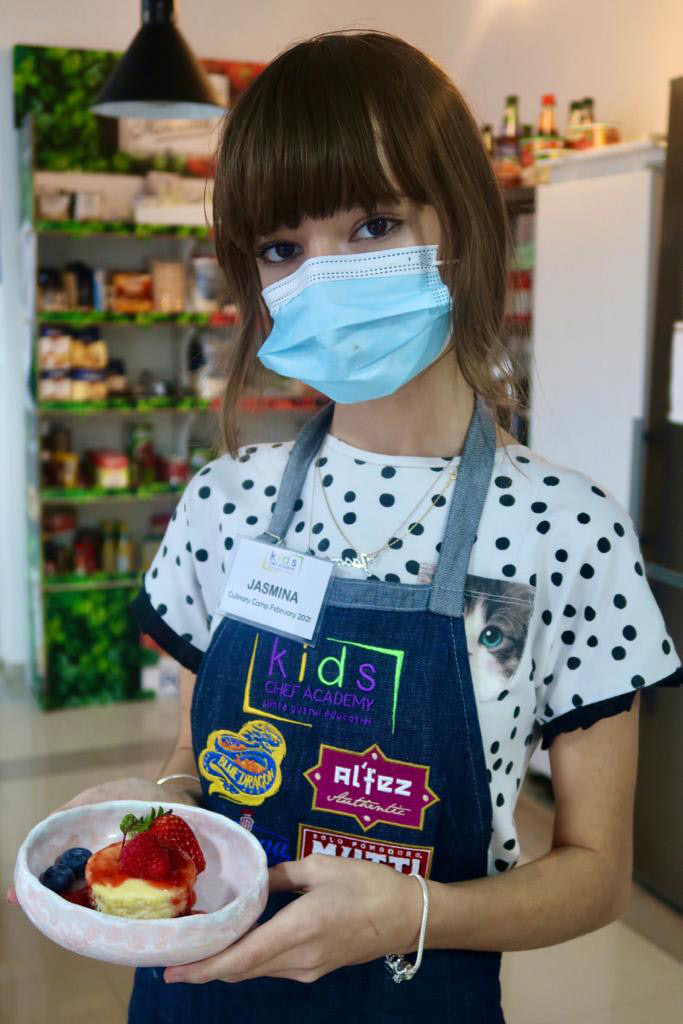 One Day Culinary Trip: our partner's locations, such as Organic Farms – Mansions – Agricultural Parks – Outdoor Culinary Competitions.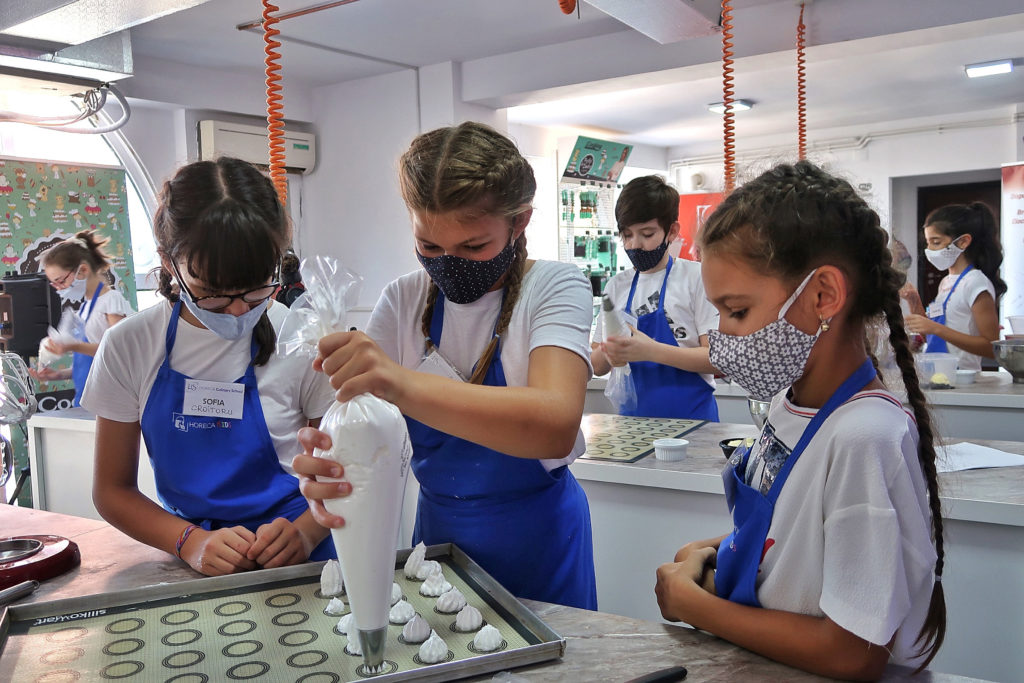 Our Next Level Projects: TV production "culinary academy" – kids chef academy mini-series project – online production – National caravan kids chef academy- we discover Romania – "Education for the future" events – Kids chef academy scholarships – social project for children and young people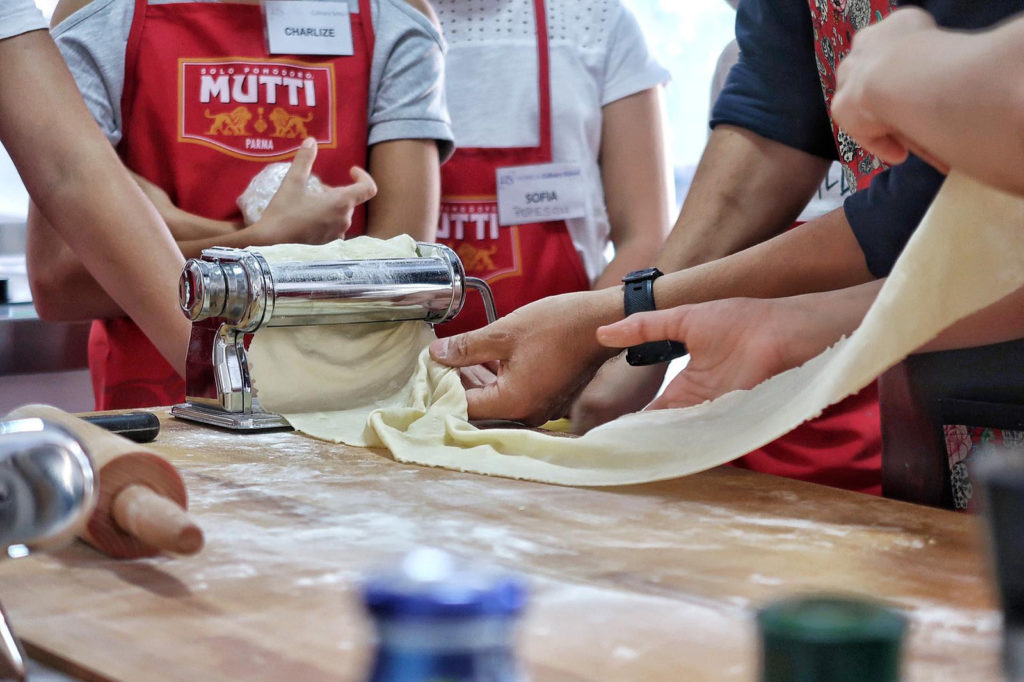 Kids Chef Academy Partners: Parma Food Group Distribution – La Molisana – Blue Dragon – Alfez Products – Mutti – Microgreens Romania – Victoria Finala Ceramica – Horeca Culinary School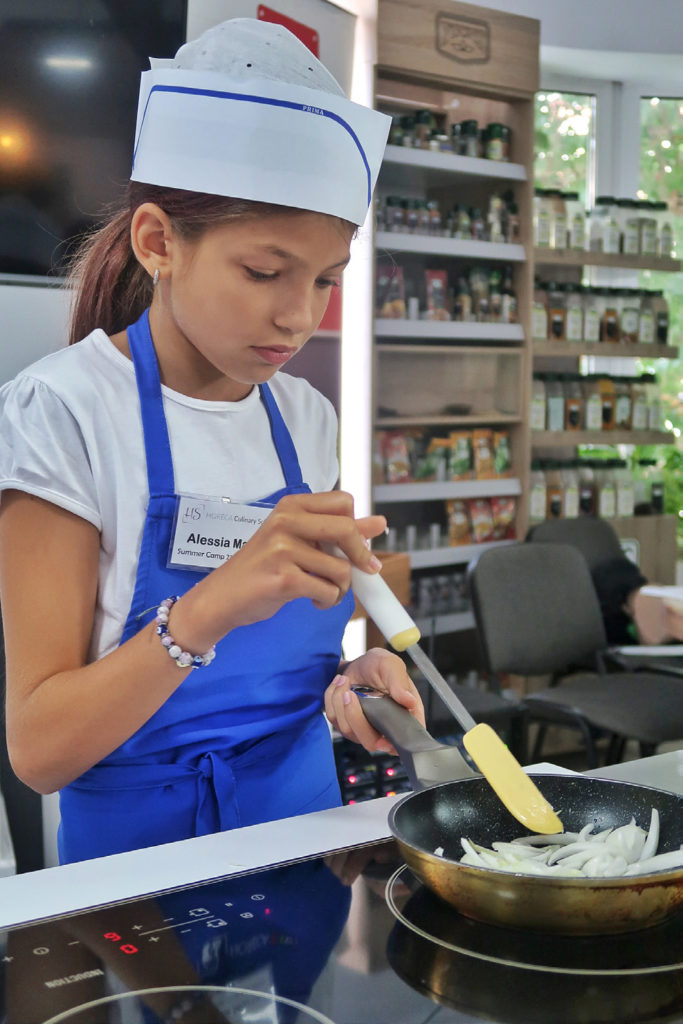 by: Nisrin Stoica
Photos Copyright: Kids Chef Academy